Welcome to Save the Pine Bush!
Forty-two years of advocacy for the Pine Bush
Save the Pine Bush is a volunteer, not-for-profit organization dedicated to saving the Albany Pine Bush and Karner Blue habitat in New York State, a globally rare ecosystem in New York State. We stop developers by suing the government using environmental laws.

The fight for Pine Bush presevation has all the elements of a good novel - except it is real. David vs. Goliath - volunteers vs. City Hall. Check out our current battles or read about how we got to where we are today.
Stop Crossgates Expansion

Virtual Hearing:
May 13, at 6:00 p.m.

The Town of Guilderland Planning Board will hold a virtual public hearing on Wednesday, May 13. Everyone should plan to attend. Use your computer to see and listen to the hearing. Use your phone to call in to make comments. The phone number to call is (518) 579- 3721. Watch here on the livestream.

You can also make written comments on the proposed Rapp Road Residential/Western Avenue Mixed Use Redevelopment Projects in the Pine Bush. Pyramid/Crossgates is the developer. Comments on the Draft Environmental Impact Statement (DEIS) are due on Tuesday, May 26. Email comments to Kenneth Kovalchik, Town of Guilderland Planner, kovalchikk@togny.org or postal mail Guilderland Town Hall, P.O. Box 339, 5209 Western Turnpike Guilderland, NY 12084 Paricipants are limited to only a 3 minute comment(!). Information on virtual hearing can be found online by clicking here.

---

Meetings/Dinners/Hikes

Wednesday, May 20, 2020, at 7:00 p.m.

Grace Nichols, Steve Wickham and Lynne Jackson

will speak about

Pyramid Clear Cut and the Proposed Development in the Pine Bush

---

Go Hiking in the Pine Bush!

---

Donate to fight the Pyramid Crossgates Proposed Developments

Or send a check to:

Save the Pine Bush
c/o Lynne Jackson
223 S Swan Street
Albany, NY 12202
---
---
---
Jim Learning of the Grande River Keeper
---
---
---
---
Read about Save the Pine Bush's 30th Anniversary
in the Times Union:
Related Links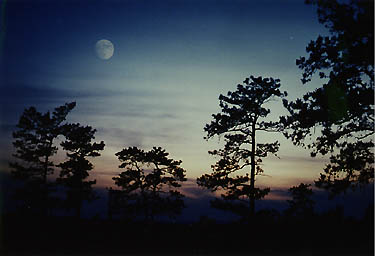 The Pine Bush at moon rise.
Photograph by volunteer Doug Morse.
This page last modified on May 10, 2020