Welcome to Save the Pine Bush!
Thirty-four years of advocacy for the Pine Bush
Save the Pine Bush is a volunteer, not-for-profit organization dedicated to saving the Albany Pine Bush and Karner Blue habitat in New York State, a globally rare ecosystem in New York State. We stop developers by suing the government using environmental laws.

The fight for Pine Bush presevation has all the elements of a good novel - except it is real. David vs. Goliath - volunteers vs.
City Hall. Check out our current battles or read about how we got to where we are today.
Dinners/Hikes Trips

Vegetarian/Vegan Lasagna Dinner
Chris Hawver

Executive Director of the Albany Pine Bush Preserve Commission, will speak about

The Pine Bush
---

---

October 21st from 11:30 to 12:15

outside DEC at 625 Broadway, Albany

---

---
Read about Save the Pine Bush's 30th Anniversary
in the Times Union:
Related Links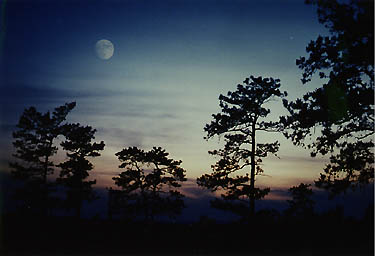 The Pine Bush at moon rise.
Photograph by volunteer Doug Morse.
This page last modified on October 13, 2014