Amanda Dillon
Field Ecologist and Entomologist for the Albany Pine Bush Preserve Commission, will speak about
Science in the Albany Pine Bush Preserve
Ever come across some weird equipment in the preserve? Wonder how we know how many karners are out there? See someone standing with a clipboard on the trail? How do we know if our restoration and management are working? Join us this evening with Amanda Dillon as she details a season of science in the Albany Pine Bush Preserve.
How to Join the Zoom Meeting
A link to the Zoom meeting will be posted on the Save the Pine Bush here. Or click https://savethepinebush.org/z for a direct link to Zoom.
Or call into the meeting at (929) 205 6099, meeting # 3958921225. The Zoom meeting will open at 6:00 PM for anyone who wishes to socialize prior to the presentation.
Also, you may call or text (518) 366-7324 for assistance.
---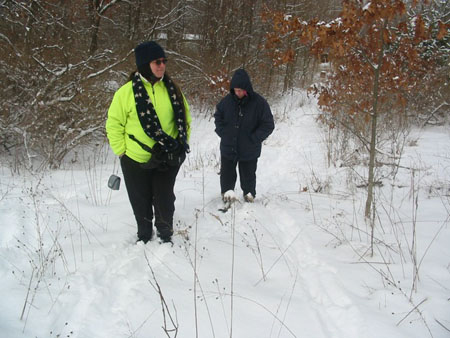 ---
June 2022 Virtual Pine Bush Meeting
Long time educator and SPB member Tom Ellis of Albany will discuss land preservation in the Adirondacks and the Pine Bush. Tom's talk is a follow up to his May 24 Friends & Foundation of Albany Public Library-sponsored review of Brad Edmondson's 2021 book, A Wild Idea: How the Environmental Movement Tamed the Adirondacks, which describes the creation of the Adirondack Park Agency fifty years ago.
April 2022 Virtual Pine Bush Meeting
Tina Lieberman, Vice-Chair of the Albany Sustainability Advisory Committee and a Co-founder of Zero Waste Capital District and Bill Reinhardt of Capital District Community Energy shared information about practical actions you can take that will curb greenhouse gas emissions and help protect our beautiful Earth.
View the Power Point Presentation.
February 2022 Pine Bush Meeting
Save the Pine Bush turned 44 this month. Lynne Jackson gave an update on Save the Pine Bush's current litigation and current development proposals in the Pine Bush. Also, Steve Downs spoke about two innocent Muslim men entrapped by the FBI and sent to federal prison for 15 years. Their case captured the national attention. But, Yassin and Mohammed were not the only innocent Muslim targeted by the government. Steve will first update us on what has happened to Yassin and Mohammed and their families. And then tell us where the War on Terror is 20 years since 9/11, and what people are doing about it. Thank you for all that attended!
October 2021 Pine Bush Dinner
Laura and her daughter Olivia, age 13, shared with us their adventure this past summer of raising monarch butterflies and releasing them for their journey to Mexico. Hear the inspirational and wild tale of how their family made it their mission to turn a parking lot into a Wildlife Way-Station and Nature Hub, in and for the South End of Albany, NY.
June 2021 Pine Bush Dinner
Our virtual dinner on Wednesday, June 16, 2021 featured Todd Ommen, the Managing Attorney at Pace Environmental Litigation Clinic, and Robert O'Connor, Save the Pine Bush law intern, on the Environmental Litigation Clinic and its representation for Save the Pine Bush. They discussed the proposed Pyramid/Crossgates project and the approach the law clinic students took to challenge this project, including preparing SEQRA comments and filing an article 78 lawsuit.
April 2021 Pine Bush Dinner
Our virtual dinner on Wednesday, April 21, 2021 featured Neil Gifford Conservation Director of the Albany Pine Bush Preserve Commission speaking on "The Pine Bush and the Pandemic: Update on the Preserve".