Demand Climate Change Action – Earth Day, April 22, 2021 🌎
Demand Climate Change Action – Earth Day, April 22, 2021 🌎
Dear All,
This is an important event to attend. I hope to see everyone tomorrow!
Sincerely,
Lynne Jackson
For Save the Pine Bush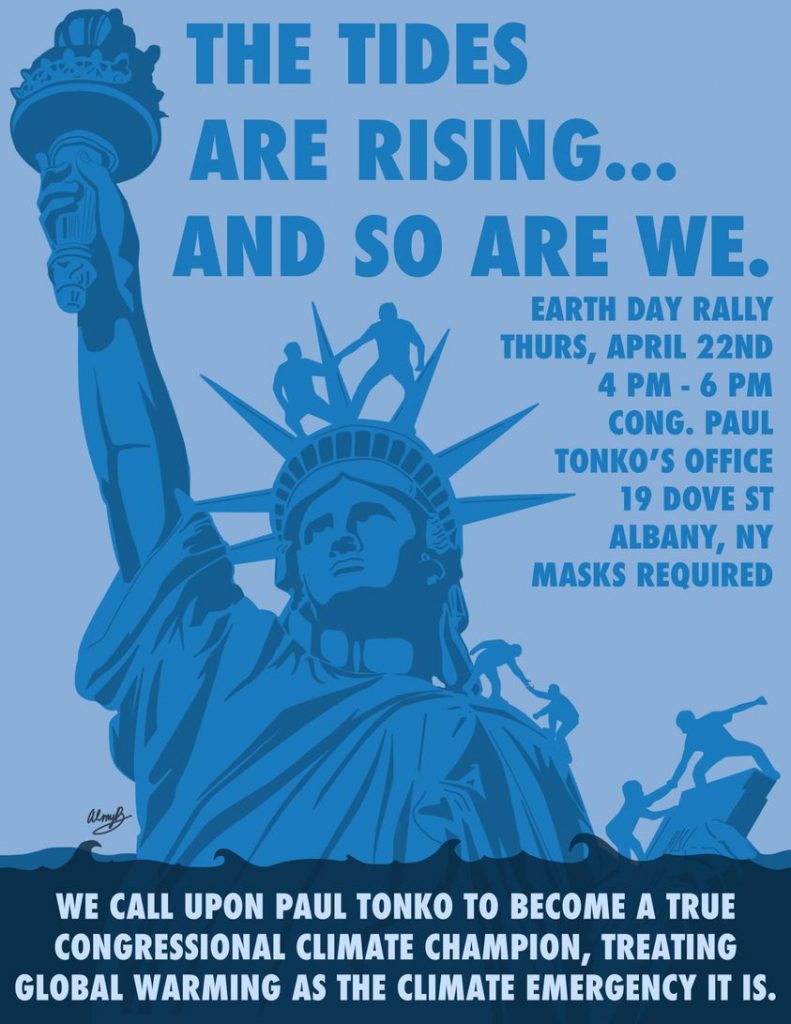 Date: Thursday April 22
Time: 4:00 PM
Location: in front of Cong. Paul Tonko's office, Dove and Washington, Albany NY
What: Demand Climate Action
Climate change groups in the Capital District will observe Earth Day (April 22) with a rally in front of Congressman Paul Tonko's office in Albany to become a climate champion. The colorful events – The Tides are Rising and So are We – will urge the Congressmen to Say No to Fossil Fuels, and Yes to 100% Clean Energy by 2030. The groups want Tonko to amend his Clean Future Act to reject false "clean energy" solutions like fracked gas, carbon capture technology and garbage incineration. The event is sponsored by PAUSE (People of Albany United for Safe Energy), Upper Hudson Green Party, FWW (Food and Water Watch), Save the Pine Bush, and others. There will be speakers, music, and art work.
Statement from groups: We call upon Paul Tonko to become a true Congressional climate champion, treating global warming as the climate emergency it is. He must support a rapid end to fossil fuels, with mandatory near-term reductions in greenhouse gas emissions that achieve 100% clean, renewable electricity by 2030 and zero emissions soon after. This includes a halt to new fossil fuel infrastructure (including a ban on fracking and fossil fuel exports) and a rapid phaseout of existing uses, including ending the use of natural gas (e.g., renewable heat for buildings). We support a multi-trillion-dollar annual federal investment in green infrastructure that provides for a Just Transition to lift up all Americans, including those presently dependent on fossil fuels while investing heavily in communities victimized by pollution and climate change. Cong. Tonko must amend his CLEAN Futures Act to eliminate false solutions such as garbage incineration, carbon capture technology, green hydrogen, renewable gas, biomass and nuclear.