Save the Pine Bush
Save the Pine Bush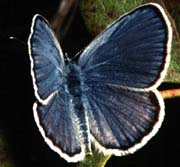 Resting on a leaf, click on photo to see larger picture.
So much controversy over such a tiny butterfly-the Karner Blue, Lycaeides melissa samuelis. A beautiful pale blue, this tiny creature only lives in its adult form for one to two weeks. Named by Vladimir Nabokov (probably better known for his writing than his lepidoptery), there were once so many butterflies that all one could see were clouds of blue. Now, only a few hundred survive in the Pine Bush.

There are no laws to protect an ecosystem. But there are laws protecting endangered species. Save the Pine Bush uses the endangered Karner Blue butterfly as the legal basis for its lawsuits to save the Pine Bush.

The butterfly lives in others places besides the Pine Bush. There are spots of butterflies in Clifton Park, New York (about 20 miles north of the Pine Bush), and in New Hampshire and Michigan. Last I knew, the butterfly has become extinct in Ohio.

Here are a sampling of articles on the PB's most famous resident. Ed.



Photos

Photograph of the under-side of the Karner Blue Butterfly, 1989

Karner Blue Books

A Field Guide to the Karner Blue Butterfly (Lycaeides melissa samuelis), Oct/Nov 07

Not Everyone Wants to Save the Karner Blue

We Got News And It All Fits, Feb/Mar 97
The Karner Blue and the Wishing Wells, Dec96/Jan97
Developer Bulldozes Lupine – Bad Behavior in Colonie, June/July 1995
Slick Book Attacks Karner Blue-Right Wingers Want Pine Bush To Die, April/May, 1995
The Karner Blue vs Crossgates Mall – Secret Meetings and SEQRA Violations, Dec 96/Jan 97

Karner Blue Biology

Terrorist Ants Kidnap Butterflies? We'll Find Out Says Scientist,, June/July 90
They're Late, But They're Back!, June/July 90
What Does the Karner Blue Eat?
Butterflies Alive! Ants, Assassin Bugs and Slimebag Developers Can't Stop Karner Blue, Oct./Nov. 1991
ROAD IS A BARRIER TO BUTTERFLIES, 9/24/02

ON THE TRAIL OF NABOKOV'S 'BLUES' , From the National Geographic, 11/9/00

How fares the Karner Blue?, Feb/Mar 05
How fares the Karner Blue? Part Two , April/May 05
Bringing Back Sustainable Karner Blue Populations, October/November, 2009

Karner Blues Elsewhere

Opinion – Saving Butterflies, from the Concord New Hampshire Monitor, 1992
From Wings of Change, Nov.-Dec., '91
Butterflies – Not Bulldozers, Keeping the Karner Blue in Clifton Park,, Jan./Feb. 92
Save the Pine Bush Makes it to New Hampshire, Aug/Sept 01
Our Friends, the Oak Openings Region Preservation Alliance — Protecting the Ohio Oak Openings, May/June 01
$321,000 Grant to Aid Karner Blue Habitats, Dec 02

Protecting the Karner Blue

Letter Writing Made a Difference – The Karner Blue Listed as an Endangered Species, Mar./Apr. 92
Karner Blue Symposium July/Aug. 92
Books for Butterflies, May/June 02
Just In Time For Spring! Plant Native Pine Bush Species In Your Back Yard!, May/June 01
The Federal Karner Blue Butterfly Recovery Plan, Jan/Feb 03
A Comfy White Quilt for Karner Blues, Reprinted from the Times Union, Tuesday, February 18, 2003, Mar/Apr 03
Final Recovery Plan Issued, Dec 03/Jan 04
Warning that 'Extinction is Forever,'
advocates for endangered Karner Blue Butterfly speak out at Clifton Park Town
Board meeting, Feb/Mar 05
Blues Connection, Feb/Mar 05
Karine Franke – Vote for the Karner Blue for New York State Butterfly, Jan/Feb 08
Looking Forward – Save the Pine Bush 30th Anniversary, February 20, 2008

Hi again, Karner blue, September/October 2015

Karner Blues Are Endangered in the Pine Bush

Our Favorite Butterfly – The Karner Blue in 2001, Dec 01/Jan 02
How Well is the Pine Bush Doing? – July/Aug 99
Butterfly Populations Decimated in Albany Preserve, August/September, 2009
Sign Anti-Pesticide Petition!, August/September, 2009

Related Stories

No Butterfly Releases – Throw Rice, Not Butterflies at Weddings, May/ June 00
Monarch Butterfly Conservation Crisis, Oct/Nov 00
In Flurry of Motion, Lessons Take Wing – Guilderland Farnsworth Middle School students raise, track butterflies – Reprinted from the Times Union, 9/14/02 Oct/Nov 02
Odyssey to a Butterfly Festival, Oct/Nov 02
Transforming our world, One butterfly at a a time, reprinted from the Altamont Enterprise, Aug/Sept 07

Nabokov and The Karner Blue

A Journey to Nabokov's Karner, New York – a Conservation Dilemma, Mar/Apr 00

Nabokov's Blues: – The Scientific Odyssey of a Literary Genius, March, April 2001

Nabokov's Blues – The Scientific Odyssey of a Literary Genius, Jan 00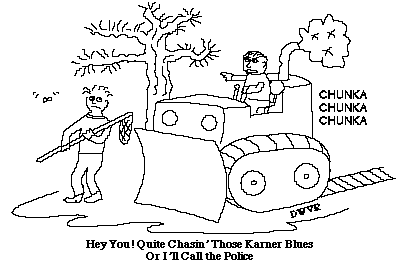 Scientists studying the Karner Blue are required by law to get a permit because they might possibly hurt a butterfly. Developers running bulldozers which kill hundreds of butterfly larvae and eggs at a time are often allowed to destroy as they please.