Roads in the Pine Bush – John Poorman Speaks about the CDTC
Roads in the Pine Bush – John Poorman Speaks about the CDTC
by Lynne Jackson
ALBANY: John Poorman, Executive Director of the Capital District Regional Planning Commission spoke at the July SPB vegetarian/vegan lasagna dinner.
Mr. Poorman began by describing what the Capital District Regional Planning Commission (CDTC) is. The CDTC is the designated "Metropolitan Planning Organization" (MPO) for four counties, Albany, Rensselaer, Saratoga and Schenectady. Under federal law, the CDTC's responsibilities are to provide a forum to discuss transportation needs and develop transportation plans in the context of social, economic and environmental considerations. Federal highway and transit funds cannot be spent in the Capital District on any project that does not derive from CDTC's long-range transportation plan and short-range Transportation Improvement Program (TIP). In short, the CDTC is essential to the approval of transportation projects involving federal funds.
CDTC's members include a broad roster of important decision makers in the Capital District. The permanent members include the chief elected officials from the four counties, the region's eight cities, and the Town of Colonie. Rotating members are from other towns and villages. Other permanent members are the NYS Department of Transportation (NYSDOT), Capital District Regional Planning Commission, Capital District Transportation Authority, Albany County Airport Authority, Albany Port District Commission and NYS Thruway Authority.
Mr. Poorman explained that the Commission operates solely by consensus. He observed "the cynics would say that the only way we reach unanimous consent is to find the lowest common denominator." Mr. Poorman prefers to think the CDTC's process emphasizes the need for objectivity and operates on established principles.
The CDTC experienced a watershed event in the mid-1990s when the New Visions Regional Transportation Plan was written. The Plan is crafted around 25 adopted principles, articulating very clearly the role of transportation in shaping the economy, of the need to use transportation to enhance our assets for economic development, sustainabilty, revitalization of urban centers, and making sure suburban areas grow into something and not just into nothing. Building walkable and bikable communities are important principles. When specific plans are implemented these are the principles that come into play. CDTC priorities for transportation funds are crafted around principles and budgets that seek to create a better balance.
As evidence of the principles being used to evaluate projects, over the last seven years of the New Visions Plan, Mr. Poorman noted that CDTC funded approximately 30 separate bicycle and pedestrian projects around the Capital District but no new highway projects in the same period in order to create a better balance.
Mr. Poorman said, "It is important for you to have a sense whether the decisions that are made around our table have any clout or not." Mr. Poorman then explained how the process at CDTC works. The CDTC is a creature of federal law which, in this case, supersedes state law. NYS has no statutory capability or clout for regional government or metropolitan planning. However, if anyone in the Capital District wants to use one penny of federal transit or highway funds (and these funds are pretty flexible, and can be used for different projects from helping to build the Rensselaer Amtrak Station to buying CDTA buses), then the project must be approved by the CDTC. No one, not the State Department of Transportation, not the NYS Thruway Authority not the Town of Guilderland or Colonie, can use a penny of the federal money, unless it is approved in CDTC's plan and in CDTC's program. That discipline allows the CDTC (which is collection of these same local governments) to establish rules, guidelines and higher standards for transit projects. The discipline in the federal program also requires fiscal responsibility. The CDTC's process must be fiscally responsible. The CDTC is required to have a five-year program for projects and a 20-year plan which is balanced against reasonably expected financial resources.
The CDTC takes this responsibility seriously. As an example, Mr. Poorman described how the CDTC looked at the issue of the Northway and the growing concern about congestion. Mr. Poorman noted, "The traditional transportation planning agency might have said, 'we have a problem how do we solve it, and which $300 million solution will solve it the best — widening it, building a rail line down the center, or what have you.'" Instead, the CDTC examined the issue with the Northway in the context of everything else, and asked such questions as: How urgent is it? How does that priority stack up against other priorities for the use of scarce resources? Do we have the resources to implement the solutions? Based on work CDTC did with NYS DOT and in the community, and analyzing the cost to solve the problem, the CDTC asked is it a priority? And the answer was no. The cost of widening the Northway was too high when compared to other priorities for scarce resources.
The CDTC takes this common sense approach, but the CDTC's approach is not a typical MPO response. In context of the CDTC's current work to extend the long-range planning out to 2030, Mr. Poorman described having the opportunity to take a look at 14 other metropolitan long-range plans. He discovered that these plans were not as realistic about funding as the CDTC. For example, Atlanta's plan anticipates spending $50 billion on new roads and extensions of rail systems. Seattle's plan has 2000 lane miles of highways as part of their solution.
Mr. Poorman believes that the capital District has the opportunity to plan for growth better than most regions. The CDTC has the agreement of all of the counties, all of the cities, the towns and the villages to work through the process,
For example, the vast majority of the $100 million transportation dollars spent per year spent is spent on system preservation and re-habilitation. CDTC objectives are couched in local sustainability and one of the goals is to reduce the overall cost of the transportation system on a per capital basis (cost being defined as direct expenses, social impacts and environmental damage), and to reduce the average cost over the 20 years of the plan. Other goals include reducing the per capita cost, reducing the cost to society for accidents, fatalities, crashes on the system and to create a quality of life that sustains a healthy economy and social fabric.
In the plan dating back to 1997, the CDTC adopted a policy for an acceptable rate of growth in vehicular traffic Mr. Poorman believes is unprecedented. The CDTC has a target traffic level. These traffic forecasts are not trend projections, they are traffic forecasts that the CDTC wants to reach and can sustain. The CDTC is not designing to a situation that is not wanted, the CDTC is designing for a situation that we want to create.
Another aspect that is important is the realization that the only way to achieve these goals is going through improved land use planning, community design, and economic development activities. In the CDTC's long-range regional transportation
plan, there is an unusual budget element, that sits right along side technology
for busses, and that is support for planning. These planning studies have met
with a very positive response. In the last 4 years the CDTC has funded 36 separate
planning studies that the CDTC calls "community transportation linkage
planning studies."
For example, CDTC funded 75% of the cost of the Albany Housing Authority study regarding marketing efforts to revitalize the North Broadway commercial district in the City of Albany. From one perspective, this study has a very thin connection to transportation needs. But it is central to the regional transportation plan because every piece of economic activity that occurs in the City of Albany is travel demand in some suburb of the Northway that is not going be needed. These studies are as varied as Mansion Neighborhood parking, to Glenville developing new regulations to create a town center to sidewalk/driveway/ bicycle standards in Malta.
Another principle the CDTC uses in evaluating projects is that access to funding is "jurisdiction blind." It is typical for MPOs around the country to let the state DOTs take what they want off the top and other participants share what is left. In the CDTC's process, NYSDOT has to submit proposals to the collective table just like everyone else. This has lead to a rare situation where over the last 5-10 years, nearly half of the federal highway funds have been devoted to projects off of the state highway system.
For example, look at NY 5 from downtown Albany to downtown Schenectady. Between the City line of Albany and Schenectady, NY 5 runs through the Towns of Colonie and Niskayuna, and the Village of Colonie. That part of the road outside the cities is owned by State of New York, maintained by the State of New York, plowed by the State of New York, etc. Inside the cities of Albany and Schenectady, NY 5 is a city street, and totally the responsibility of the city. In terms of level playing fields, the State structure and jurisdiction over highways facilities and tax policies puts cities at a disadvantage relative to suburban communities. The CDTC can level the playing field by making Federal funds available to projects based on need, and it is not unusual for a city project to have a high level of need because of the neglected repairs, etc.
Mr. Poorman then began to describe transportation projects in the Pine Bush.
He said, "On your website, you had a nice critique of our 'Pinebush [sic] Transportation Study', where Save the Pine Bush stated, 'what do you expect from an agency that doesn't know how to spell 'Pine Bush'?' So only semi-intentionally, I lifted this map from the 'I love New York' website to point out that we are not the only agency that has trouble spelling 'Pine Bush'."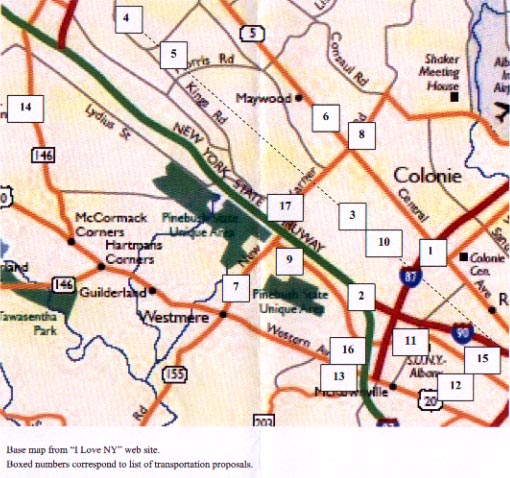 Status of Transportation Proposals in the Pine Bush
1. I-87 Corridor Study: NYSDOT is wrapping up an extensive examination of the entire corridor from New York City to Montreal, with a focus on the Capital District to the Canadian border. Recommendations emerging are modest, emphasizing use of technology to manage congestion, improved customs facilities and rail corridor investment to reduce NYC – Montreal passenger rail travel times.
2. Thruway Authority's Albany Corridor Study. The Authority is winding down its technical work and public outreach. The study puts on the table substantial work to redesign toll areas and/or convert to mainline toll barriers to accommodate twenty-year traffic projections. A direct connection between the Northway and Thruway southbound is considered. Widening between Exits 24 and 25 is also discussed. A funding source has not been identified for any major actions and the recommendations do not currently have status in CDTC's long-range plan.
3. NYS High Speed Rail Initiative. A significant joint commitment by NYSDOT and Amtrak was made several years ago to improve the high speed rail features of the Empire Corridor. The plan, supported by CDTC, includes double-tracking between Rensselaer and Schenectady. CDTC has also committed funding to a Western Gateway Intermodal Center in Schenectady. The overall plan has stalled because of both Amtrak's and New York State's fiscal conditions.
4. Commuter Rail Demonstration: CDTC had intended to test commuter rail from Saratoga County to Schenectady and Albany, but work by CDTA determined that the cost of a test would be prohibitive. The concept is alive for long-range consideration, but finding a cost-effective rail service design that would serve a large market is a tall challenge. Location of stations between Schenectady and Albany would be critical to any success; CDTC/CDTA's work had focused on one at Fuller Road and one in downtown Albany.
5. Morris-Cordell High Speed Rail Crossing: As a safety project, NYSDOT has desired to eliminate the at-grade crossings at these locations for some time. CDTC includes a project to do so in its TIP. Recent charettes have raised the possibility of building/realigning road corridors. If this is desired, some recycling back to CDTC's TIP or plan may be necessary to determine desirability and priority. CDTC had considered but not funded a corridor project proposed by the town of Colonie several years ago.
6. NY5 Bus Rapid Transit: As a result of extensive planning and outreach, CDTC adopted a plan to invest in technology; bus transit; access management and land use re-design; bicycle and pedestrian accommodations along the corridor between Schenectady and Albany. CDTC and CDTA are currently conducting a Bus Rapid Transit Conceptual Design Study to define the service, locate stations and determine feeder services. Transit connectivity between NY 5 services and Crossgates and other locations in the Pine Bush will be improved.
7. New Karner Rd., South of NY5: For many years, CDTC maintained a plan to widen New Karner Road to four lanes. Before initiating engineering work, CDTC asked for an assessment of the environmental sustainability of such an action. A NYSDOT investigation indicated that would be challenging. In response, CDTC re-examined its Pinebush [sic] Transportation Study, and reduced its plans for New Karner Road to a scale comparable to that suggested by the Pine Bush Preserve Commission (two-lane boulevard with habitat connections).
8. New Karner Rd. North of NY5. CDTC's work in the early 1990's suggested urgency to widening this section, as well. Current priorities and budgets do not reflect a commitment to this any longer.
9. Washington Avenue Extension. CDTC's re-examination of its Pinebush [sic] Transportation Study has similarly reduced the priority of a planned action to grade separate the intersection with New Karner Road. This action has been removed from CDTC's plans.
10. Lincoln Ave. High Speed Rail Crossing. As a safety project, NYSDOT has desired to eliminate the at-grade crossing at this location. The village of Colonie has the lead in project design, with one objective being to eliminate through traffic from Lincoln Avenue and realign the crossing with Jupiter Lane. Impacts on Pine Bush lands are a significant consideration in design options.
11. Fuller Road. No current project is funded, but county and state officials would like to explore traffic, pedestrian and land use connectivity issues particularly in the area around Washington Avenue extension as "high tech" activities increase. A CDTC Linkage study may be considered over the next year.
12. Harriman Campus. Formal redevelopment of the campus is underway. No transportation proposals have emerged, but CDTC is interested in exploring redesign of the street system and linkages to the surrounding communities.
13. McKownville Area. CDTC and Guilderland completed a Linkage study in this area, leading to recommendations for improved pedestrian and transit treatment.
14. Carman Road Area. Similarly, CDTC and Guilderland completed a Linkage study in this corridor, identifying a plan for sidewalk and signal improvements to improve walkability and livability in this part of town.
15. Patroon Greenway. CDTC is conducting a study of the possibility of constructing a trail along the Patroon Creek connecting Rensselaer Lake to the Hudson River. Alignment, sponsorship and funding are key questions.
16. Crossgates Mall Ring Road. Should the Thruway make a direct connection to the Northway, this connection will need re-design. Short of that, CDTC has offered suggestions for improved traffic operations.
17. Old State Rd/New Karner Road. Realignment/ roundabout is suggested by CDTC, subject to environmental considerations