Rezsin Adams, leader of Save the Pine Bush, passes away
Rezsin Adams, leader of Save the Pine Bush, passes away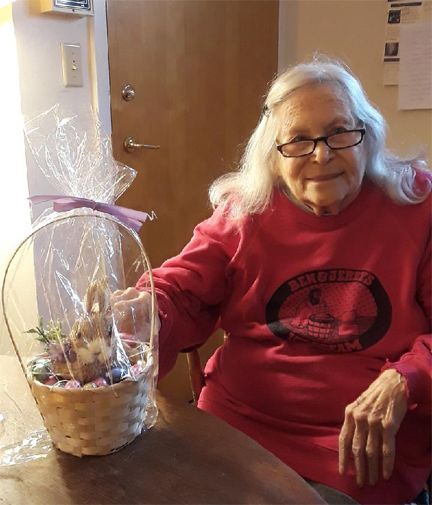 ALBANY: It is with great sadness that Save the Pine Bush announces the passing of one of its founders and long-time leader, Rezsin Adams.
Rezsin, born in Brooklyn on February 13, 1927, died peacefully yesterday at the age of 93.
Rezsin met her husband, the late Dr. Theodore Adams, while attending college at the University of Rochester. After marrying in 1947, and receiving a masters degree in physiology, Rezsin and her family moved to the City of Albany Center Square neighborhood in 1959.
Rezsin was a member of the activist community. Other than a few short jobs when she was younger, including running an art school in Buffalo and lobbying against nuclear power, Rezsin lived her life as the dedicated volunteer.
Rezsin was an implacable opponent of the old Albany Democratic Machine, a thorn in the sides of "The Mayor" Erastus Corning, III and his successors. In 1969 she became the first Dissident member of the Albany Democratic Committee, which caused the Machine a great deal of consternation. She helped the first Dissidents get elected to the Albany Common Council, and was involved in electoral politics for decades.
She was a leader in the protests against the Viet Nam War, including getting arrested and going to jail. The last time Rezsin was arrested for protesting was in 1990. During a protest against the First Gulf War in 1990, a group of very young protesters sat down in a major intersection in downtown Albany for about two minutes and were arrested. Rezsin decided to go sit down with the protesters. deliberately getting arrested so she could be with the youngsters and help them.
Rezsin was famous for her Save the Pine Bush lasagna dinners, which she made monthly for the group for about 39 years. Dinners were vegetarian lasagna, salad, garlic bread and pie. Everyone was welcome. After making all of the food to be served, Rezsin would serve the lasagna buffet stye – standing behind the pans of spinach, pepper and lasagna , waving her spatula, and greeting each person and chatting while asking what type of lasagna they would like.
Under Rezsin's leadership Save the Pine Bush, through litigation, had a tremendous impact not only on local planning and development but on a State level and beyond. Ask any law student in New York State who has taken a course in environmental law and they will tell you they are familiar with Save the Pine Bush lawsuits and the precedents they have set.
Save the Pine Bush was extremely unpopular in its early years, mostly because it was seen as an impediment to "progress." Actually, Save the Pine Bush under Rezsin's leadership upset the back room partnership between politicians and hit-and-run developers. At one point, a developer filed a SLAPP suit against Save the Pine Bush for $15 million. A reporter asked Rezsin what assets Save the Pine Bush had. She considered for a moment and said, "Well, we have about 200 of these 'I'll Never Shop Crossgates' bumper stickers!"
Rezsin was famous for her mimeograph machine in the basement. She printed newsletters for many local groups, including the Peace newsletter. Rezsin was a long time volunteer mainstay of the Peace Breakfasts.
Rezsin visited China many times as a member of the U.S. China People's Friendship Association. She was in China on 9/11, as she told the story she woke up in the morning and was puzzled to see this same odd movie about the World Trade Center on every channel of her TV.
A mainstay of the Social Justice Center, Rezsin volunteered at the store in the center, keeping it open on a daily basis for years. Rezsin volunteered for all of the WAMC fund drives, taking the 4:00 AM shift.
For twenty years, Rezsin had a radio show on WRPI. Never identifying herself on the show, Rezsin read articles from various publications on a wide variety of interesting topics, actually had a wide following because in the days before the internet people were starved for straight information about the world.. Rezsin's voice was so distinctive that people would often recognize her at the grocery store or other places as the host of the show after she only spoke a few words.
Rezsin was very generous to people, helping people with money or loans. She watched people's children and took care of people. For twenty years, Rezsin ran the Pine Bush day care, where she offered an informal day care for the children of activists, giving all of the proceeds to Save the Pine Bush.
Rezsin was a role model. She was generous and worked to make life for everyone better. She worked for peace. Rezsin was a pillar of the community. Known for her distinctive sartorial style, Rezsin always wore a sweatshirt and stretch pants. She often carefully chose her sweatshirt based on what event she was attending; making sure the statement on the shirt matched the event.
Rezsin is survived by Frances Adams and son-in-law David Patterson, son David Bleecker-Adams and daughter-in-law Elaine Bleecker-Adams and grandchildren Esme and Zayda.
Published in August 13, 2020