Save the Pine Bush Victorious! – Developer Removes Water Lines!

Lynne Jackson
Lynne Jackson (shown here on the left), knew she was short, but
this picture really emphasized the point! On the right is Ken
Screvin of Channel 6 News and a reporter from WRGB Radio. Lynne
Jackson, secretary to Save the Pine Bush, keeps the paperwork
straight for the lawsuit, faxes lots of stuff, organized creating
incredible maps for the exhibits, and obsesses about the case.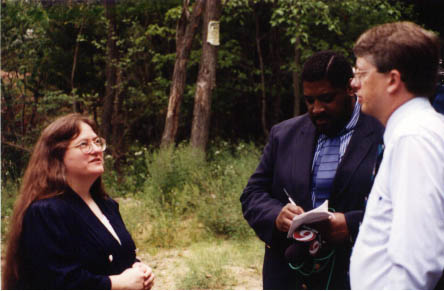 Lynne Jackson, on August 10, 1998.
Photo taken by Louis F. Ismay, August 10, 1998 and generously
donated to Save the Pine Bush.
published August 30, 1998