Save the Pine Bush Victorious! – Developer Removes Water Lines!

Media Frenzy
The media came out in full force for our Press Conference
announcing the removal of the water lines. In the background, note
the backhoe digging up the water lines.
From left to right: Lynne Jackson of Save the Pine Bush, Don Levy,
Channel 10 News, Ken Screvin, Channel 6 news, reporter from WRGB, and
John Wolcott.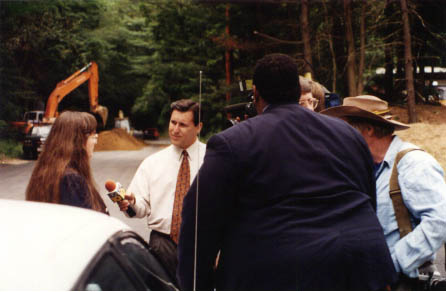 Usually, TV stations do not cover Pine Bush issues very often. One reason may be that Save the Pine Bush is victorious when
"nothing" happens (i.e. nothing is built). For example, a huge
housing development is approved. Save the Pine Bush sues the
municipality and wins. The land is then purchased for preserve. Save the Pine Bush has another victory, yet the landscape has
remained the same. Thus, the TV has nothing to take pictures of
except trees that have been standing in the same spot for decades.
Photo taken by Louis F. Ismay, August 10, 1998 and generously
donated to Save the Pine Bush.
published August 30, 1998